GameGuardian APK is a tool which is meant to make some edits on the game data to gain ultimate benefits. The app is designed to work on the rooted android devices as well as non-rooted smartphones when you can run on the virtual environment. So, you can use this best tool on any android device by following a simple procedure.
Well, we all play games on android mobile devices, Right? while playing a game we often look after important parameters such as gold, coins, lives and money. These are a crucial element to get some skins and benefits to eligible to further rounds or levels.
In these cases, many of us playing really hard to get enough coins or gold or money to unlock respective materials and a few people will buy those values with their real money. But, android enthusiasts always look for the way to have gold or coins for free.
GameGuardian is made for that particular category of users who love games as well as cheats to have some fun. Cheat almost all android video games with the help of GameGuardian APK tool and unlock the levels with ease.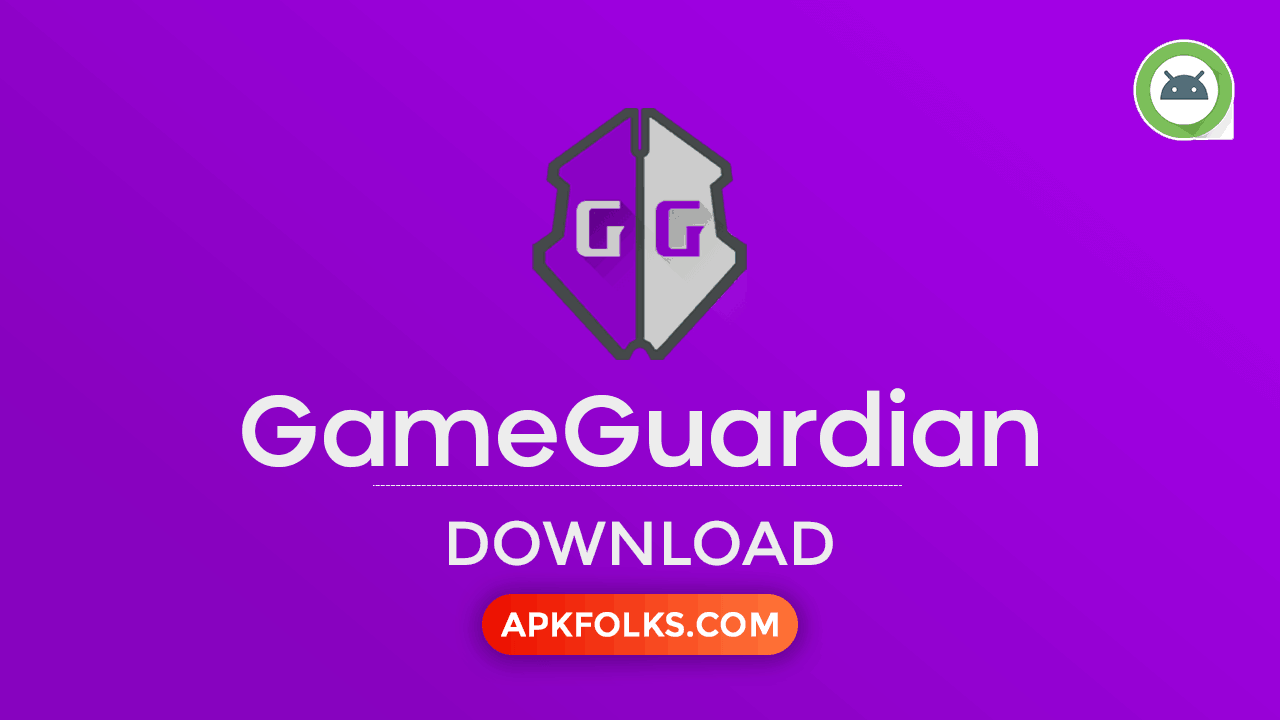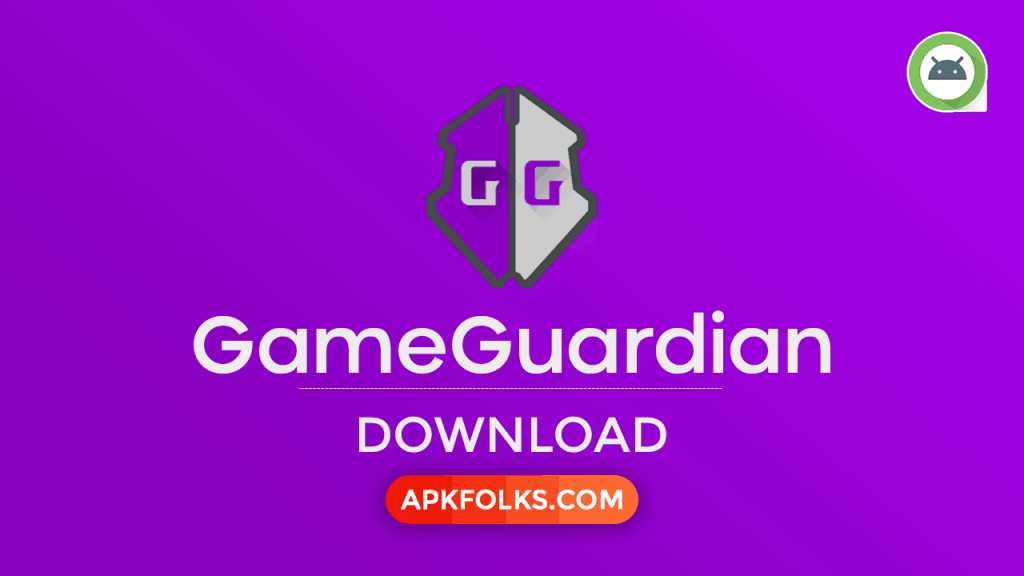 What is GameGuardian APK Tool?
GameGuardian is an android application which helps the user to edit the values of game parameters. Compatible to the x64 and x86 architecture devices which means the user can use it on android and windows PC with the help of android emulators (NOX, BlueStacks, Genymotion, MeMu and more)
Generally, it is a cheat application as like the Lulubox app, SB Game Hacker and Cheat Engine. Can be used against online and offline games to alter the values of the particular aspects. For example, if you have coins exactly 30 in the game, then you can modify the same amount with any number that you want.
There are chances to get your account ban when you opt for this app to cheat some popular games. Online games like PUBG, Clash of Clans, LAST DAY ON EARTH, Critical Ops, Free Fire and many have the detection system to find the culprits. So, please remember outcomes before proceeding with the GameGuardian like apps.
Version Info
| | |
| --- | --- |
| Name | GameGuardian |
| Android | 2.3+ |
| Size | 18 MB |
| Version | 101.1 |
| Last updated | June 03, 2023 |
Download GameGuardian APK Latest Version for Android
Although GameGuardian App works on non-rooted android devices with the help of virtual machines like VirtualXposed or Parallel Space, still the way it works is different and limited to some features compared to the one with a rooted device. So, you can hack more features of the game when you have superuser access.
We recommend Magisk by Topjohnwu to root your android device to pass SafetyNet check only if you want. Otherwise, use virtual apps to unlock decent features of the game. One more thing is; also modify values in the android emulator and transfer game to the smartphone or tablet.
Coming to the download, there are two variants available in GameGuardian based on the device architecture.
For android emulators, you should download the allocated app which supports x86 architecture from below.
For Android devices, you can use the x64 architecture variant.
Download APKs from the below.
Features
Supports different architecture – It can work on x64, x32 and x86 devices. Since GameGuardian supports x86, one can install on their android emulators to hack games on windows pc.
Script – Load script for the specific game and execute it. Now, control the parameters.
Prevent detection – It dodges from the detection tools of the popular games by changing its package name. This saves you from bans and helps you to win.
Encrypted values – Allows to search for the encrypted values and modify them.
Saved list – It is used for edit values in less time. Once you add the values in the saved list, you don't need to select type every time. Just directly enter the value you want.
Speed hack – Accelerate and deaccelerate the object. In this way, user can able to complete the things in a shorter period.
Time Jump – Some offline games do add time restrictions for providing lives. With this feature, you can skip the time as much as you want.
Inventory hack – Modify all the values of resources such as gems, coins, lives, health, bullets, ammo etc.
Filter – Advanced filter options give you the desired results.
How to Install GameGuardian APK on Non-Rooted Android with VirtualXposed?
One of the methods to install this tool on no root android devices. It is a simple process. Kindly read the below procedure.
Step 1. Download VirtualXposed Official app from here. Get an idea about this Virtual app by reading the article on their official site if you have enough time.
Step 2. Install VirtualXposed APK on your android device.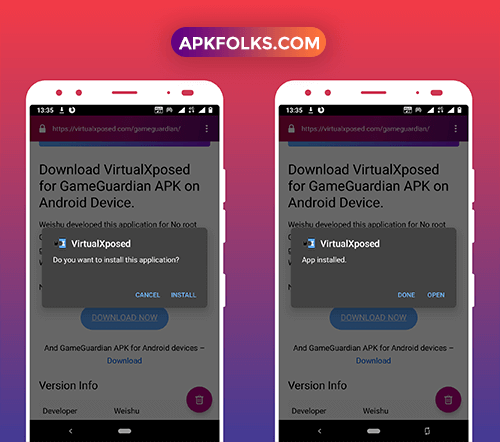 Allow unknown sources and all things.
Step 3. Once you are done with the installation, open it.
Step 4. Long tap on the home and tap on the Add app button which is left to the launcher settings.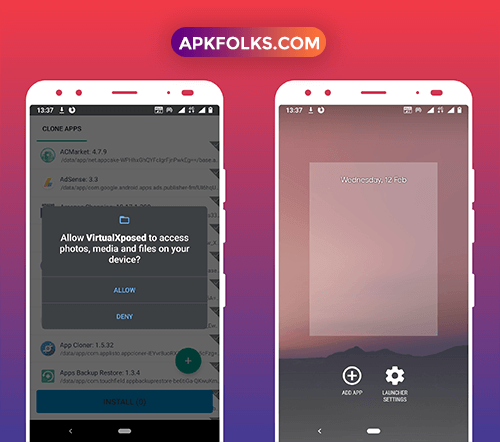 Step 5. Allow storage permissions and select the internal shared storage tab. It will reload all APKs which are in the device storage.
Step 6. Find and select the GameGuardian APK and tap on the install button. Wait for some time until it gets installed.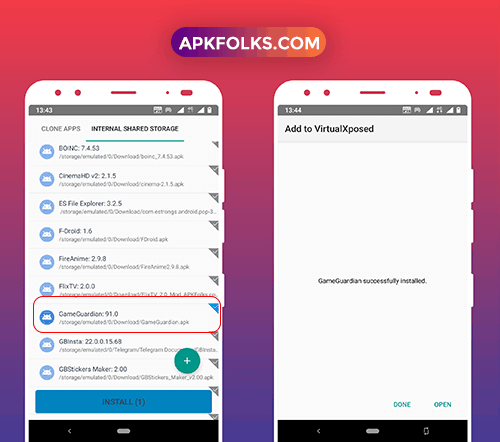 Click on the done button and load the Game that you want to hack into the VirtualXposed space by following the same procedure.
Note: After opening the GameGuardian App in any device, it will start installing with another package name to prevent itself not to be detected by anti-cheats. So, respond accordingly.
How to Install GameGuardian APK on Non-Rooted Android with Parallel Space?
The best and recommended method endorsed by users. And this is an optimised version for GG and supports x86. By the way, you don't face any errors like 105.
So, before proceeding further, please uninstall Parallel Space application if you have installed form the google playstore.
Step 1. Download Parallel Space optimised app from below according to the android version.
Step 2. Install Parallel Space APK to your android device by allowing unknown sources or allow from this source option.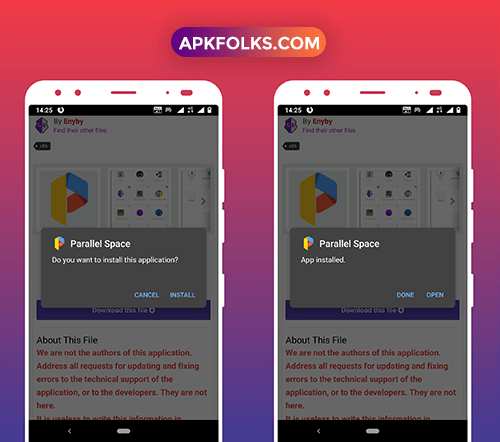 Step 3. Tap on the Done.
Step 4. Install GameGuardian APK to your device and click on the Done button.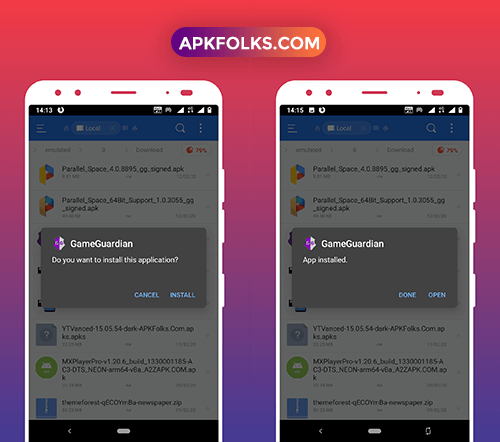 Step 5. Now, Open Parallel Space app from the apps section and allow required permissions like Location, storage.
Step 6. Tap on the Add App button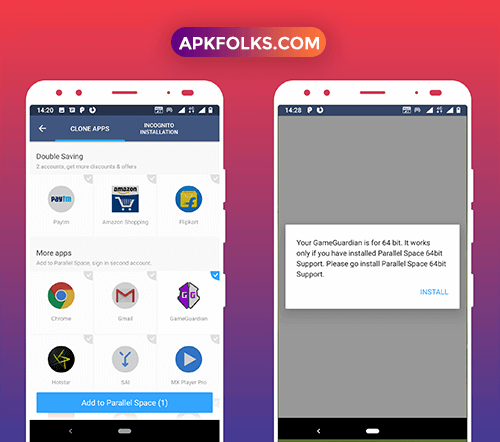 Step 7. Select GameGuardian App and the game that you want to cheat. Then tap on the install button.
It will clone the selected apps and install on the virtual space.
Step 8. Now, open the GG app.
Note: If you got a notification that says either you should install 64Bit support or 32Bit support to proceed, download and install those apps accordingly.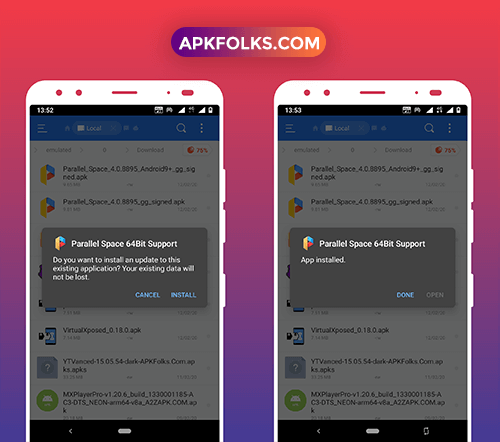 Step 9. It will ask you to reinstall and tap ok and select default for mode installation.
How to Install GameGuardian on Rooted Android?
With the rooted android device, you don't need any virtual space apps. Just install the GG app based on the architecture and the Game.
Step 1. Open it and select root mode.
Step 2. Grant superuser permissions.
Step 3. Allow display over the apps permissions.
Step 4. Now, open the game. At the top right corner, you would see the GG icon. Tap on it to select the game.
Remember the gold value or money value.
Step 5. Click on the search icon and type the current gold value. Then enter.
It will give you a bunch of similar values, but you have to select the right one to modify. (Watch this beginner Video Tutorial for better understanding)
Final Words
GameGuardian app is the best alteration tool out there to give exact results. It can able to hack most popular games like PUBG, Garena Free Fire, Sniper 3D, Shadow Fight, Call Of Duty, Mobile Legends and many more using the Lua scripts. Many scripts are developing day by day by enthusiasts.
All you just make is a simple google search for a working script for your desired game. But for the latest updates, visit us.
I hope you like this detailed installation GameGuardian tool tutorial.
Kindly share with your friends and I will meet you in the next one. Peace✌️