Player Unknown Battle Grounds is an epic online multiplayer battle royale game that ranks among the top of its category and has collected a massive fanbase of players and merchandise. The game application comes in different versions, and depending on the device's specs, it would run differently. If you don't have a gaming phone or high-spec device, then your gaming experience isn't quite at its peak. However, the GFX Tool for PUBG is popular software that can alter the game settings and improve its performance on your device.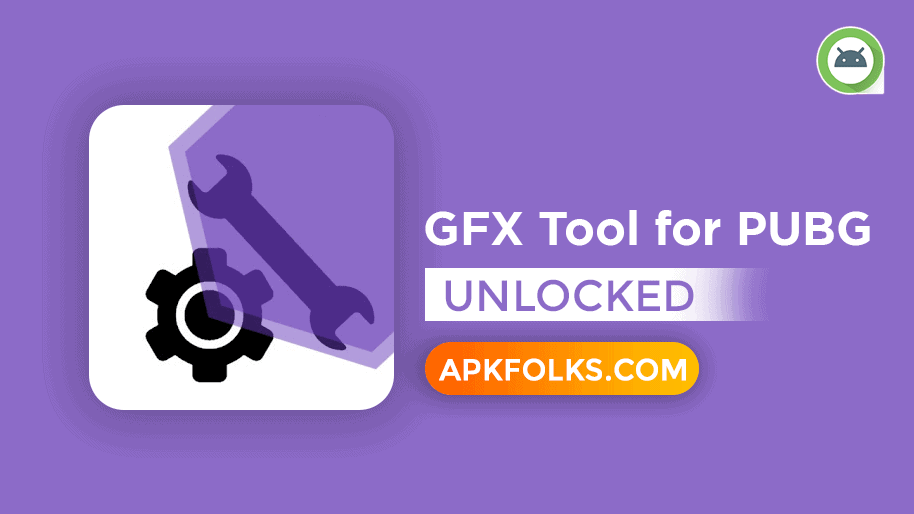 What is GFX Tool for PUBG?
The GFX Tool for PUBG is a free utility launcher for your PUBG game that allows you to customize various gaming features to improve its performance fully. With the app, you can change the resolution, graphics, increase FPS, enable anti-aliasing, and take control of other adjustments that detect your game's performance. It's a free APK that accommodates all versions of the PUBG game. And it is suitable for both low and high spec devices.
Version Info
| | |
| --- | --- |
| Name | GFX Tool for PUBG |
| Version | 10.1.0 |
| Developer | tsoml |
| Size | 4 MB |
| Category | Tools |
| Last updated | September 20, 2021 |
Download GFX Tool for PUBG for Android
While games like PUBG don't allow players to make changes to certain features such as the graphics, the GFX tool does. There could be many threats from the game's policy of possible bans from using this application. Still, so far, none have been recorded due to the app's anti-ban properties. Furthermore, suppose you install the official version of this application from the play store. In that case, it becomes almost impossible to get banned. The best part is you don't even need a paid subscription because many inaccessible features have been unlocked by the GFX tool for free.
Get the latest version of the GFX Tool for PUBG from the link provided below.
Recommended Tool: Download PGT+ (Pro Graphics Toolkit) Mod for Free
Features
---
Choose Game Version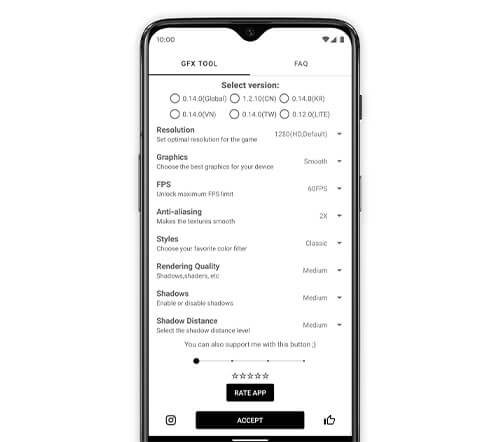 Once you've downloaded and installed the GFX Tool for PUBG from the play store, you would first need to select the PUBG game version you have on your phone. There are different types of PUBG versions online, from the global mobile game down to the lite version supported by low-end devices that cannot handle the full version's spec requirements. The GFX Tool for PUBG supports every type of game available. Selecting your phone's game version allows the app to provide you with the range of settings best suited for your installed version.
Resolution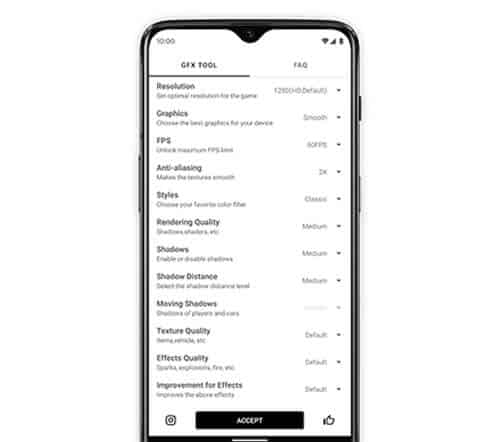 Every smartphone comes with its limits concerning resolution. High-end phones have a higher resolution limit than low-end ones, and that's why you need to check your phone's maximum resolution before choosing your most preferred option. The range of resolution runs from the default game resolution or a lower setting of 768×432 up to a maximum of 2560×1440. If you're using a standard spec device, it would be best to choose a low resolution of preferably 960×540. This would make the game lighter to run and give you a smooth in-game performance. For the high-spec phone, you can break the limits as long as you have the required specs.
Graphics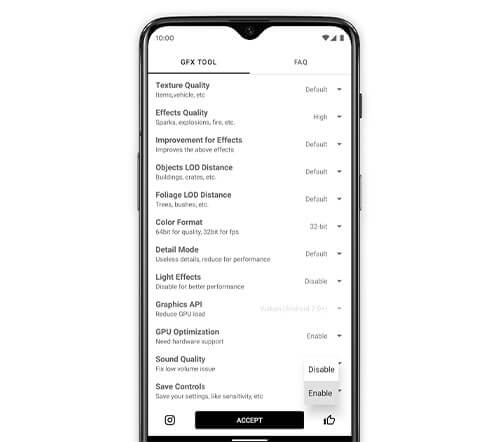 Here, the application allows you to choose and change the quality of image rendering. There are a variety of various options, including:
Smooth
So Smooth
Smooth HD
Balanced
HD
HDR
Ultra
For example, you were to opt for smooth graphics; the images that would appear as your game would be rendered faster than the HD graphic option. With soft, you wouldn't notice the details, or rather, your images would not be as sharp as you'd hope. Things like trees and grass would take on a box-like or square shape, but the game would run faster. However, this all depends on your phone's specs.
Select FPS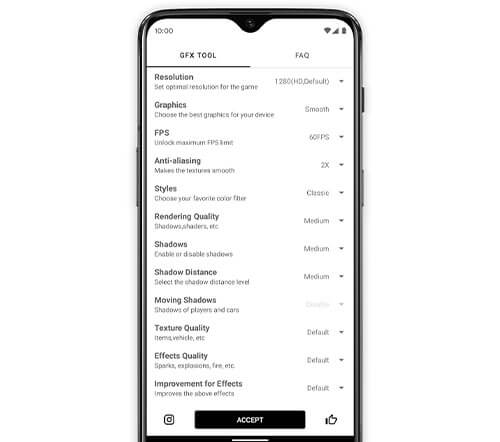 Frames per second, FPS, is the speed at which images are shown on your screen. I'm sure you're already aware that a low FPS will not give you a good gaming experience or the satisfaction you need. This feature tends to dictate your gameplay. If you're going against someone with a much higher FPS online, the odds would be stacked against you if both of you have similar rankings or weaponry. With a high FPS, your game would move more smoothly, and with the GFX Tool for PUBG, you can choose between the following FPS options:
30 FPS
40FPS
50FPS
60FPS
90FPS (If supported by your phone)
Anti-aliasing
Anti-aliasing is all about the texture of your images as you're gaming. This technique is used in digital imaging to reduce any visual defects when someone tries presenting high-resolution images in a low spec device. For example, when the feature is disabled, the texture of grass and trees would not look as smooth as it would when the feature is enabled. The GFX Tool provides gamers with a 2X and 4X anti-aliasing option to choose from. You can even disable it if you have a high-spec device that doesn't require the feature.
Styles
This refers to the available color filters or display options and comes in 5 types, namely:
Classic
Colorful
Realistic
Soft
Movie
This feature only affects the color contrast and saturation of the game. While every person has their preferred style, their choice won't affect the game's performance.
Rendering Quality
This feature determines how crisp and polished an image will look and involves the shadows, shaders and other in-game features. You can choose between a low, medium or high rendering quality depending on your phone's specs or memory. A high rendering quality produces nice-looking images but might slow down your game's operations on a low-spec device. However, a low rendering quality will have images that aren't sharp and increase the game's speed. Again, it all depends on your device specifications.
Shadows
You can enable or disable shadows for your gameplay, select the shadow distance level you desire, and even disable or enable moving shadows of players and cars. Shadows give the game a more realistic feel. Still, everyone has their preference on whether to enable or disable this feature.
Texture Quality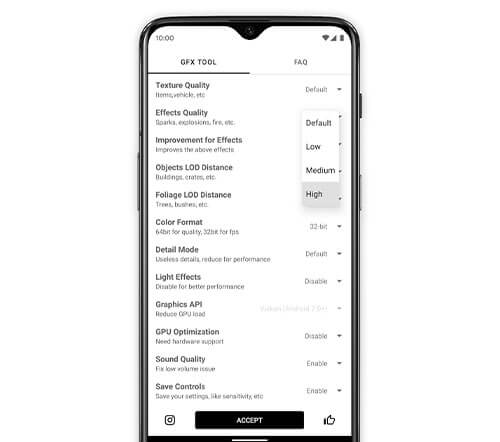 Texture quality determines how fine the image of various items in your gameplay is, like cars, trees and buildings. You can choose between default, low, medium, high, or ultra-quality, depending on your device's specs.
Effect Quality
The detail in explosions, sparks and fires from weapons can make a big difference in your gaming experience. This feature allows you to choose various effects within the game ranging from default and low to high quality.
GPU Optimization
You can enable this feature to increase the performance of your game and reduce lag effects while playing. However, this feature depends on hardware support and, thus, the specs of your device.
Save Controls
You can even opt to save your settings like customized controls and sensitivity so that you can always recover them.
Sound Quality
Suppose the quality of your gaming sound isn't as inspiring as you'd hope. In that case, you can fix this issue using this feature which offers up to ultrasound quality. Never again will you have to suffer from a low volume that prevents you from hearing approaching footsteps.
Final Words
The choice is yours. If you'd want to continue with the basic version of your PUBG game and keep playing like any other ordinary player, you're free to do so. However, suppose you're looking to better your gaming experience by reducing defects such as lag and low resolution. In that case, you can upgrade your gaming experience with the GFX Tool for PUBG app and enter the leagues of pro gamers.