IMLS is the number one tool nowadays for Mobile Legends – Bang! Bang! Android game and offers some really interesting features for the games. A simple app lets you do some amazing paid things in the game for free of cost. In this article, you are going to learn about official IMLS APK in detailed and installation procedure for better understanding.
In general, mobile game developers place some advertisements for making money out of it. A few of them try to sell assets which have been a part of the game. In the second case, developers will be more beneficial according to the increasing popularity. The fact is reputation is directly proportional to the more money since the people want to buy the desired item from real money.
The list includes skins and characters, and these were easily unlocked with the IMLS APK for free. This is why users are likely to download this application on their android devices to gain benefits and mainly it is for only Mobile Legends.
The similar tool you would find on our site is Lulubox App is used to unlock skins on Garena Free Fire as well as some other supported games.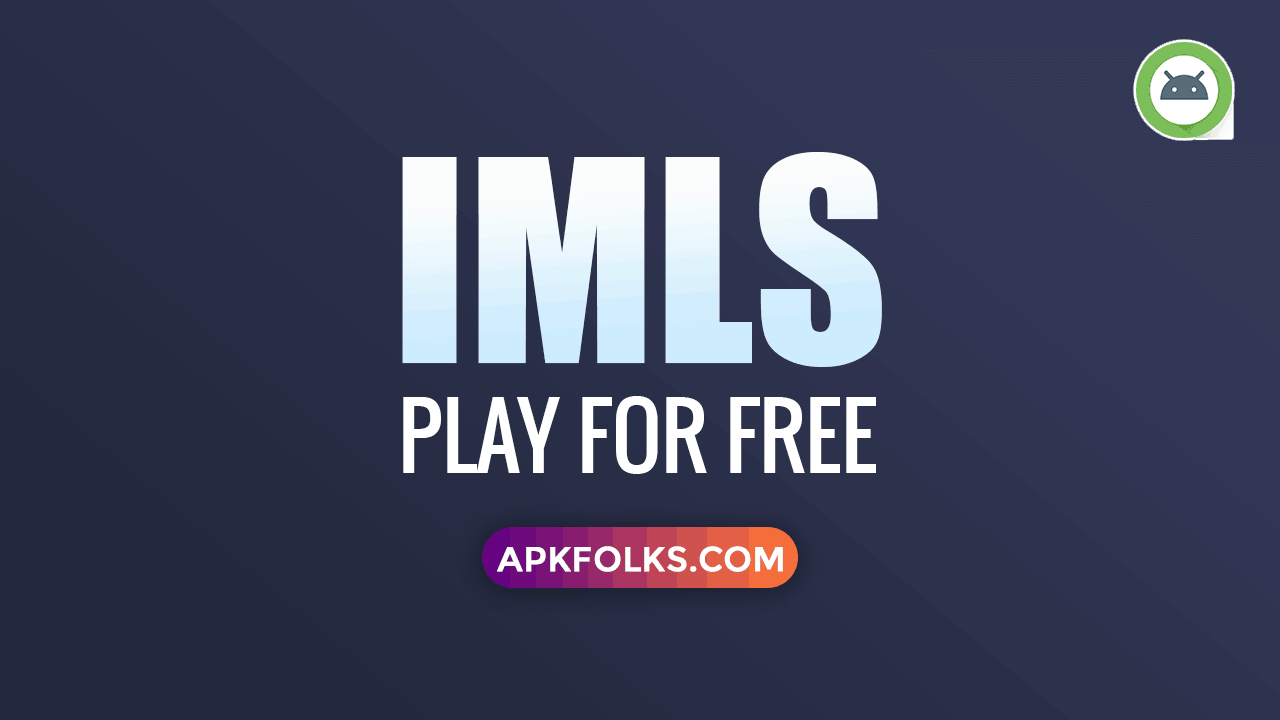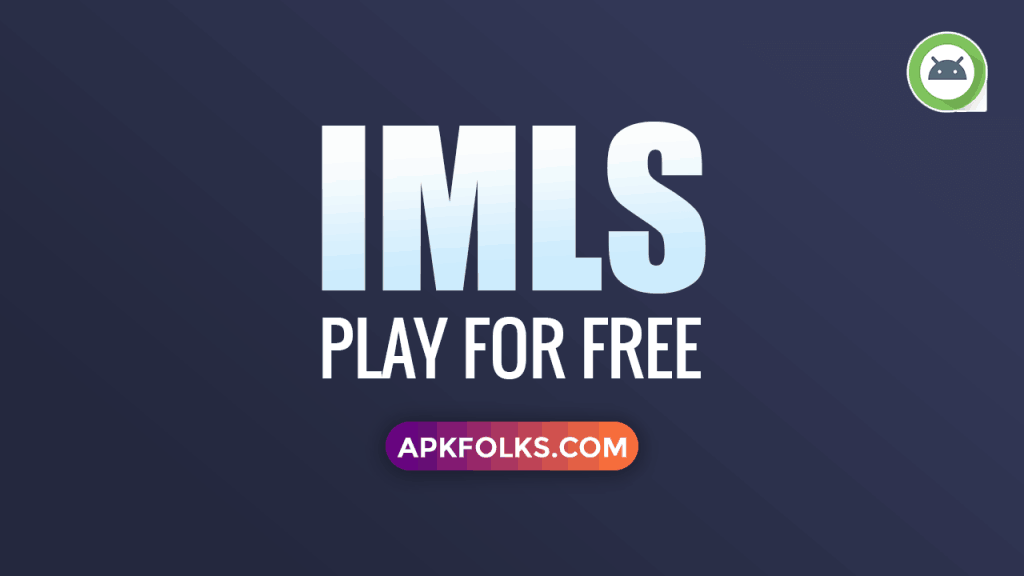 What is IMLS APK?
IMLS APK is a cheat tool which actually creates the virtual space. So, if you open ML directly, then you won't get the features at all. One must understand the fact that the risk of being banned is still there while using this kind of cheats. I hope you consider all these things before going to proceed.
Official IMLS app doesn't need root access to work since the tool creates a virtual environment and modify the value in that space. The same technic is being used by the Game Guardian app for non-rooted Android devices with VirtualXposed or Parallel space. Even, you can use GameGuardian for this purpose with the LUA script.
Mobile legends only allow players to unlock heroes if they participate and win more games. With this tool, you don't have to play that many games to unlock heroes, all you just do is open ML in IMLS.
Unlocked materials such as skins and characters are seen by the opponents or teammates who have been a part of your game. It's completely free and you don't find any annoying ads anywhere. So, enjoy playing without distractions and moreover it's free 😍
Version Info
| | |
| --- | --- |
| Name | IMLS |
| Version | 1.9.0 |
| Developers | Super Legends |
| Size | 8 MB |
| Last updated | December 30, 2021 |
Download IMLS APK Latest Version for Android
These kinds of tools also have some disadvantages that will be found once you start using the application. If you are a serious gamer or famous streamer, then we don't suggest IMLS tool for you to take advantage of free stuff. Because it can cause a permanent ban of your account and you will lose everything that you own or achieve.
Keep the above points in mind before downloading. Well, we have provided the latest version from the developers officially. So, you don't need to worry about the updates.
Download Latest APK from below.
Screenshots
Features
No ads – The developers did not introduce advertisements yet and hoping to remain as an ad-free version. It might vary in upcoming updates.
Unlock Skins – Certain amount of diamonds needed when you want to use aesthetic skin for your favourite heroes. But with the IMLS app, you don't have to pay a single penny to do that. It's just Free.
Unlock Heroes – Use characters which you want without levelling up or buying with the battle points.
Simple UI – There is only single-screen and you can access to all features from the home page itself. No multiple screens, No hidden settings and all.
Optimised – It doesn't consume more resources for your android device. Well optimised and simple app which can work on even low-end smartphone.
Virtual Environment – Open's ML in Virtual Space to do better modifications.
Discard – Join in the discord community to get instant support from the users. Ask in the forum for best support from all over the world.
Small in size – It doesn't take much space in the device storage and very portable one.
How to Install IMLS APK on Android?
Step 1. Download Official IMLS APK from our download page.
Step 2. Now, wait for some time until it gets downloaded and you can see the progress in the status bar.
Step 3. Now, go to the File Manager and search for APk file which you have saved right now.
Step 4. Tap on the APK file, and then allow some android security setting if it is asking you.
Unknown sources option is a security setting to install apps from websites like us. In such cases, like when you have an android device running with 9.0 or above, you can see the allow this source option.
Step 5. Install IMLS APK on your android device.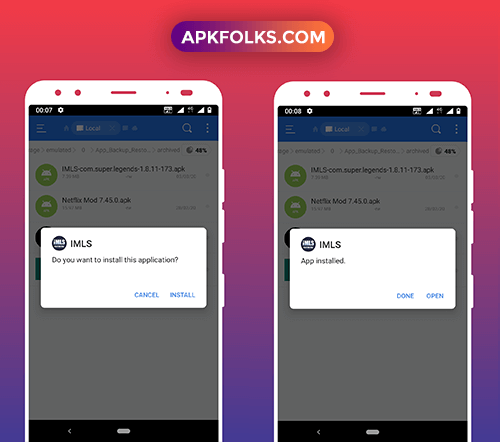 Step 6. Open it and allow storage permission.
Step 7. Now, Install Mobile Legends from the Google Playstore. (Just skip this step if you already have)
Step 8. In the home screen, you would option (refer screenshot below) Mainkan Sekarang. That means Play Now.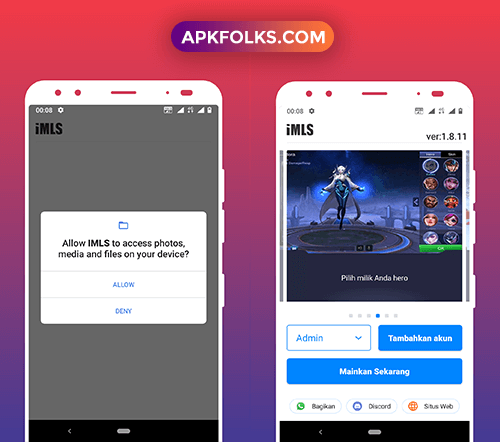 Just tap on that option to open the game.
Note: You should open ML game from the inside of IMLS app, otherwise you won't get any benefits when you open directly from the app drawer.
Step 9. That's it. Log in with your existing account or create a new with a choice of username.
Final Words
In my opinion, IMLS APK is more likely to use by the fun gamers who are just obsessed with the heroes and their outfits. I think many don't know about this tool because the only available language is Indonesian. It's a major drawback as for now.
The devs will try to translate into English soon. Kindly keep checking our page for latest and official updates right from the developers.
I hope you like this article, and thanks for visiting our site.
And I will meet you in the next one. Peace ✌️